Association for the Scientific Study of Consciousness
New York University
June 22-25, 2023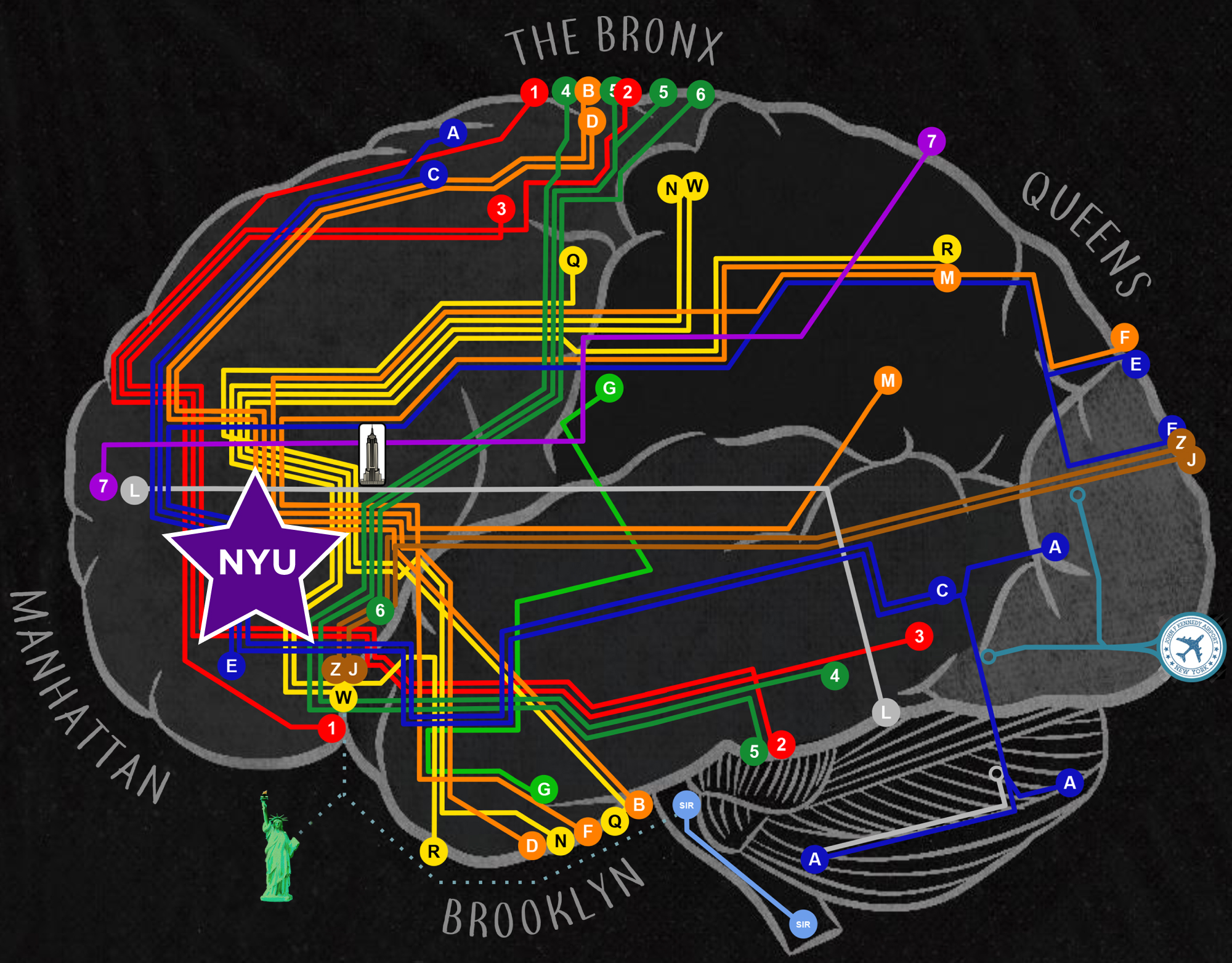 We are pleased to announce that the 26th annual meeting of the Association for the Scientific Study of Consciousness will be held at New York University on June 22-25, 2023.
Submissions for talks and posters are now open with a deadline of February 15, 2023. Conference registration will open in early 2023.
Keynote speakers, symposia, tutorials, and housing have now been arranged, as specified below.
Please direct any inquiries to ASSC26@nyu.edu.
We hope to see you soon in New York!
Ned Block and David Chalmers, Conference Directors
Keynote Speakers
We are delighted to host the following keynote speakers:
ASSC 26 will take place at 40 Washington Square South, in Vanderbilt Hall, the home of the NYU Law School. This location is right on Washington Square in the heart of Greenwich Village in downtown Manhattan. Within five minutes walk are many food, drink, and entertainment options, from famous restaurants and clubs to cheap takeout food and free music on the square. We're arranging inexpensive accommodation in NYU student housing as well as accommodation in local hotels.
Call for Abstracts: Oral and Poster Presentations
The ASSC conference program will include a number of submitted oral presentations (presented in 15-minute slots including Q&A, concurrent with other oral presentation sessions) and poster presentations (visible during coffee breaks and at designated poster presentation times).
Submissions for oral and poster presentations, including an abstract of up to 500 words, can be made here. The submission deadline is February 15, 2023.  Decisions will be made before the early registration deadline of March 31.
Registration for ASSC 26 will open in February.  For early registration by ASSC members (by March 31), the registration fees will be $400 (faculty or equivalent), $300 (post-docs or equivalent), or $150 (students).  Registration for ASSC members after March 31 will cost an extra $50. Registration for ASSC non-members will be $550.  Note that ASSC membership ($99 for faculty, $49 for students) is available here.
We have arranged inexpensive student-grade housing in NYU residence halls within a 15-minute walk of the meeting venue. Student-grade housing is open to all participants, whether students or not. All housing is in suites of two rooms with a shared bathroom. Each room may have one or two occupants. Housing may be arranged for a minimum of three nights and a maximum of nine nights, between June 19 and June 28.

The cost for a single room (one occupant) is $120 per night. The cost for a shared room (two occupants) is $160 per night, or $80 per person per night. To register for a shared room, you must either pay the full cost of the room and give the name of the other occupant (who need not be registered for the conference), or pay half the cost of the room and give full details of the other occupant (who must be registered for the conference and who must register and pay for housing to secure the room). Note that we cannot arrange or match co-occupants of shared rooms.
Registration for student-grade housing will open when conference registration opens in February. More information on these accommodations can be found on NYU's 2023 Summer Housing website.

We have also secured a block of hotel rooms in the Washington Square Hotel, two blocks from the conference location. Rates are available here. These reservations should be booked directly with the hotel.
ASSC 26 will feature eleven tutorials, to be held on the morning and afternoon of June 22, as follows. Participation in tutorials requires an additional fee per tutorial of $65 (non-student) or $35 (student). Each tutorial is intended to last approximately three hours with a short break in the middle. If fewer than 10 participants register for the tutorial, the tutorial will have to be canceled in advance of the meeting, and tutorial registration fees will be refunded.
MORNING TUTORIAL SESSIONS
Philosophical theories of consciousness: Rocco J. Gennaro
Mathematical consciousness science for the working consciousness researcher: Johannes Kleiner, Lenore Blum, Ryota Kanai, Wanja Wiese
A practical guide to EEG analysis tools used in the neuroscience of consciousness and cognition: David W. Zhou, Thomas Donoghue, Emily P. Stephen, Matteo Fecchio
Analyzing body-brain interaction: Esra Al, Micah Allen, Ignacio Rebollo
Measures and models of metacognition: Stephen Fleming
AFTERNOON TUTORIAL SESSIONS
The sensorimotor approach to phenomenal consciousness and its link to illusionism and relational approaches: J. Kevin O'Regan, Keith Frankish, Dave Ward
Integrated Information Theory 4.0: William Marshall, Larissa Albantakis, Melanie Boly
Robust methods for within-participant analyses of neuroimaging data: Bayesian prevalence and information theory: Andres Canales-Johnson, Robin A.A. Ince
Shared subcortical arousal mechanisms across diverse perceptual and volitional modalities: Hal Blumenfeld, Sharif Kronemer, Kate Christison-Lagay, David Jin
Communicating consciousness science to funders and general public: Megan Peters, Brian Odegaard, Nora Bradford
A scale-invariant hierarchy originating in the cytoskeleton inside brain neurons – A new paradigm for the neuroscience of consciousness: Stuart Hameroff, Anirban Bandyopadhyay
ASSC 26 will feature six symposia, to be held during the main conference on June 23-25, as follows:
Affective impact on perception: Frédérique de Vignemont, Marisa Carrasco, Judith Domínguez-Borràs & Patrick Vuilleumier, Hilla Jacobson
Animal consciousness beyond mammals: L. Syd M Johnson, Jonathan Birch, Andrew Crump, Matilda Gibbons, Peter Godfrey-Smith
Broad-spectrum introspection: Metacognition and self-awareness across diverse domains: Jorge Morales, Elisa Filevich, Tony Cheng, Sarah Garfinkel
Mathematical spaces for conscious experiences: Johannes Kleiner, Andrew Lee, Catherine Tallon-Baudry, David Rosenthal
The interplay between consciousness and learning: Empirical, methodological, and theoretical advances: Lina Skora, Ryan Scott, Răzvan Jurchiș, Gaetan Mertens, Eva Jablonka
The richness debate: Michael Cohen, Ned Block, Liad Mudrik, Michael Pitts
ASSC 26 Scientific Committee
The Scientific Committee evaluates the quality of submitted symposia, tutorials and abstracts for talks and poster presentations. We would like to thank the Scientific Committee in advance, for their major contribution to ASSC 26. The members of the Scientific Committee (* indicate those also on the local organizing committee) are:
Ned Block (co-chair)*
David Chalmers (co-chair)*
Richard Brown
Olivia Carter
Lucie Charles
Steve Fleming
Biyu He
Joe LeDoux
Matthias Michel*
John Morrison
Liad Mudrik
Claudia Passos
Megan Peters
Tony Ro
Luke Roelofs*
Simon van Gaal
Satellite workshops are independently organized events on relevant topics just before or after the conference. There are currently tentative plans for satellite workshops on perceptual metacognition and on animal and AI sentience (links with full information will follow in due course). If you are organizing a satellite workshop and would like it to be included on this list (subject to approval), please email
ASSC26@nyu.edu
with details. Note that organizing these events (including arranging a venue, catering, and any advertising beyond this list) is entirely the responsibility of event organizers and not ASSC.
ASSC 26 is made possible by the following  sponsors: